We love our community! It's the place where we live, play, give, work and volunteer. The team at Jackson Technologies believes in giving back to the community and helping those who are less fortunate.
Because of this core principle, our team has undertaken several significant charitable efforts.
Among these are:
412 Food Rescue– We volunteer as "rescuers" to pick up food that would be otherwise thrown away and we drop it off to community centers and other places that distribute food to those in need.
Tree of Life Open Bible Church  – Tree of Life Open Bible Church is a great place that provides a gathering place for families and a fun, safe environment for local children to play. They put on awesome events like free dinner nights, movie nights, game nights, live music, and open door evenings for working families.
Children's Hospital of Pittsburgh – We believe that sick children should be a priority! By donating red wagons with custom IV poles, we help enrich the lives of sick children and support the extraordinary work of this great hospital.
Stuff a Bus – We love participating in this fun toy drive to benefit children in need.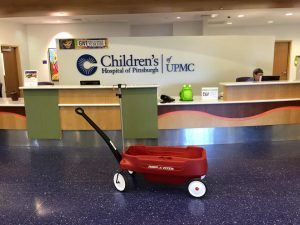 Foster Love Project – Foster of Love is a stellar organization that gathers backpacks filled with school supplies for foster parents to help ease otherwise difficult periods of transition in the life of a foster child.
Larosa Boys & Girls Club - This organization supports youth development in surrounding communities by providing socialization, education and recreation in an out-of-school setting. They foster a caring learning environment for the youth by enforcing core values such as integrity, trust, respect and love.
Our team at Jackson Technologies sincerely encourages you to get involved in these amazing organizations as well!