Importance of Generational Change in Structured Cabling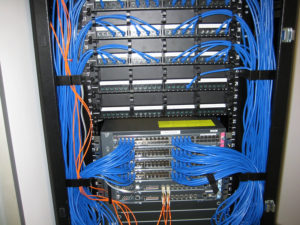 What type of cabling system do we use? When was the last time we upgraded our network cabling? These are some of the questions that any business owner should have answers for. Remember, your IT network is the backbone of your organization. If your organization fails to establish a strong network in place, it is certain that your employees waste time and productivity every day. According to the study conducted by a Switzerland-based developer and provider for cabling systems for high-quality network infrastructure, R&M, the performance of the local area networks (LAN) is reaching the limits in many existing office buildings.
The study also pointed out that over 80% of the functional and the office buildings were built before 1990 in the western industrialized countries. Therefore, structured cabling in these buildings dates back to the time of building construction. Furthermore, a significant number of functional and office buildings are expected to be modernized or retrofitted in the coming years in order to catch up on the advancing network speeds. Additionally, with the advancement in network speeds, structured cabling market is expected to grow by 2 to 3% per annum, while paving way for fiber optic systems to grow more strongly.
Future directions:
Today, many companies are gradually switching over to the structured cabling system because they are witnessing the need for transfers of huge amounts of data in a short period of time. This requirement to transport large amounts of information in a shorter period of time is changing and will continue to change. Applications such as scientific modeling, graphical data, desktop video-conferencing, and other data-intensive information will definitely drive up the bandwidth requirements.
Why is it good decision to make an investment in structured cabling? Here are some of the reasons:
Wireless Technology: The features of wireless networking are beguiling to those who are involved with installation, design and the maintenance of structured cabling systems. With the wireless system in place, one need not worry about running with cables to inaccessible locations. In the recent times, many businesses are using LAN technology which enables employees to share a common data source. Additionally, it provides a common point through which the devices that employees use, can communicate with one another.
Reduces the amount of time taken for repairs: Structured cabling system is segregated into a group of devices which are further connected to a single local cable paneling. This helps the IT professional to identify the problems and solve the issues. An added benefit of structured cabling is that users' work won't be disrupted if their devices aren't connected to the cabling panel being serviced.
Offers increased flexibility: It is much easier to add more devices to the network when using a structured cabling system. In addition, IT professionals can simply connect the device to the closest cabling panel, instead of running a new cable from additional devices to a switch or server using a long cable.
Role of structured cabling in the buildings of tomorrow
Now you understand why structured cabling makes sense for today's industries. How can it better prepare your business for tomorrow's needs? The cabling system that you install is going to be around for a long time and promises to handle several generations of devices. Switching to a structured cabling system helps the business owners in future-proofing their network. In the years to come, IoT technology is predicted shape all kinds of industries. By harvesting big data, it will revolutionize industrial processes which will be a windfall for productivity, connectivity, and efficiency.
Similar to the changes that took place in the 90s, communication is undergoing a transition. This means businesses will need high-speed, flexible and organized networks in order to stay competitive. Precisely, structured cabling positions your business to take on the challenges of an emerging era of telecommunication.